We designed the RiteKit Package for non-profits and startups as well as solopreneurs: people who wear many hats and do far more than just social media in their companies or organizations. The RiteKit Package includes high enough tiers of RiteForge, RiteBoost and Rite.ly (and of course, RiteTag) that it will give even large companies more than enough access to the automation, templating, and everything else RiteKit products offer. The only exception would be marketing agencies that create the social posts for many clients. They should write us with their needs after exploring the Package.
With the RiteKit Package, we have no aim to upsell you
Some might want a custom domain for Rite.ly. This will run you an additional $10/month. The Hashtag Reports and Instagram Account Coach are for very specific purposes. They are not included with the Package, but are not needed for creating and publishing your entire social presence.
Other than these, you will find no "add-ons," or options that are available at extra cost, once you get your Package. We don't like being upsold, and figure that you don't either.
We'd like you to have everything you need under one roof and not have to stich together a complex process that calls for several tools from different companies, different systems to memorize... It can be a mess. It can lead to people creating processes that they can't onboard new staff for, and a maze of places to go, settings to adjust. It makes for a social media publishing process that looks like this: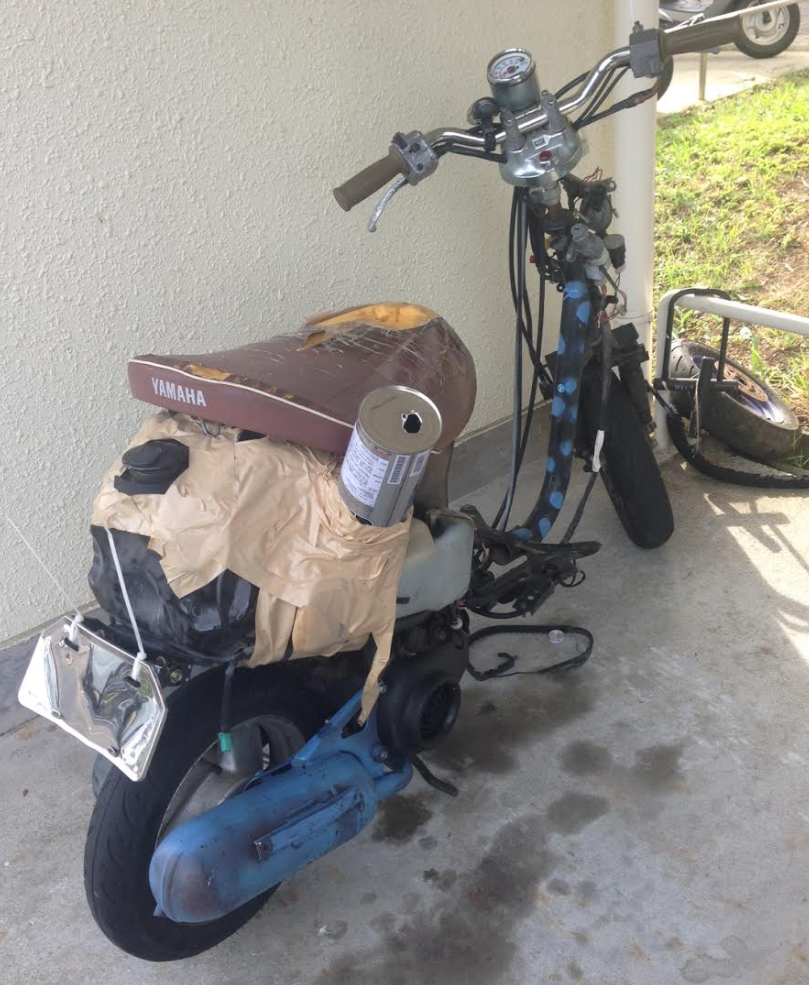 How the RiteKit Package replaces (and goes far beyond) Buffer Premium, Meetedgar, and Snip.ly Business as well
A single solution for social media content curation, post generation, social advertising* and publishing.
Curate and auto-generate posts from any of 14 sources. Far more than Meetedgar.

Soft-sell by advertising over other people's Youtube, Vimeo and Snapchat videos, blog posts, Instagram and Facebook posts and even TikTok videos!

Without paying for promoted posts or ads. You will advertise with your free, organic social posts. Everywhere you can share a link (URL), you will get your brand and offers seen.

Replace Buffer, Sendible, Meetedgar and Snip.ly. We've got a chart in the help page that makes it easy to compare the package to Buffer Premium and another for comparing just the huge tier of Rite.ly included with the package with Snip.ly Business.
Replace all costly solutions for evergreen continual publishing (here's how)
Replace a needless desktop to Instagram publishing tool (here's how)
Step up to a platform that allows them to add unlimited client social profiles, template branded ads, image generation and rules, for use in it's own automation dashboard (here's how)
Get a way of automatically feeding every possible remarketing pixel for social ad-targetting (here's how for Tag Manager; here's how for Facebook ads of all types)
Utilize a new, visual way to share press quotes and testimonials (here's how)
Replace Canva/Pablo/etc. with a tool that integrates everywhere and generates text images with unlimited brands and your unique custom styling - all templated (here's how)
No longer use time-consuming measures to prevent Instagram shadowbans (here's how)
Eliminate the need for many fringe tools with one suite that covers all social media post creation and publishing needs for Twitter, Facebook, LinkedIn, Pinterest, and special solutions for Instagram, IGTV, Tiktok and beyond.
Dramatically speed up social media post creation and publishing browser plugins/extensions. All four RiteKit products include browser extensions for all browsers other than Safari.
Gear up with the most state-of-the-art hashtag generators. Note that besides the browser extensions, you get also two mobile apps for both iOS and Android. Further, RiteForge and RiteBoost include an Android app, and Rite.ly includes an iOS app.
Get set to win at social everywhere, with all four browser extensions that integrate with the sites they use for social.
Build an audience by sharing the content of others while soft-selling on top of the content. Here's the process.
See one of our social profiles, note how we share the blog posts and other content of others - all stuff that's right for our audience - and if you click on the Rite.ly links in our posts, you'll see how we advertise on top of the content.
Using the RiteKit Package, we make social media our number one source of inbound marketing, selling as we build a targetted audience. See this page for how to do this automatically.
I wear many hats, as CEO of RiteKit. I also generate and schedule 100% of our social posts, and continue to make social media what powers our inbound marketing. I do it fast, get bonafide, quantifiable social ROI, and want you to as well.
Here's what I have scheduled to go out right now
It's how we soft-sell while building an audience based on what we share.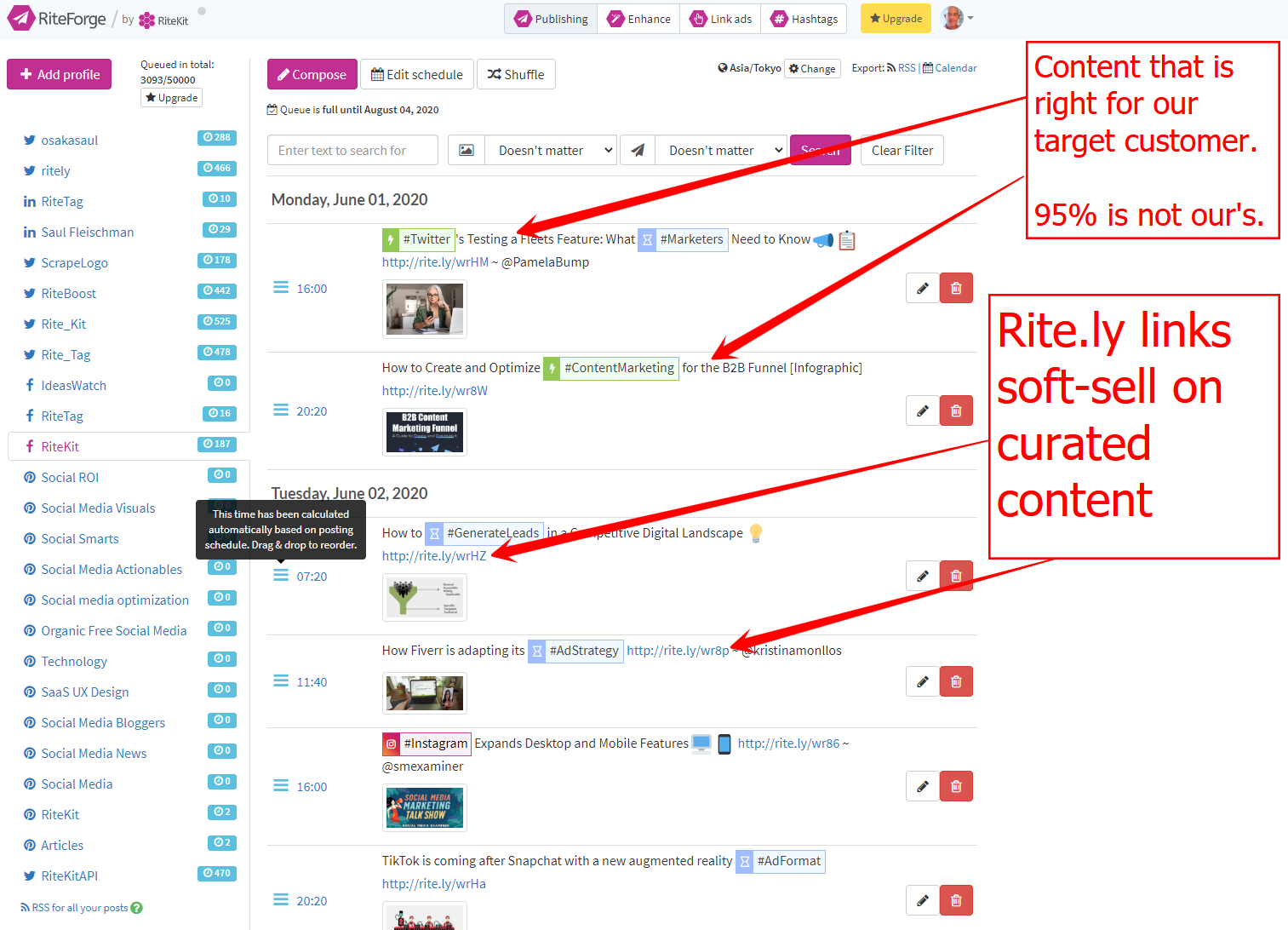 Here's the exposure I've gotten for RiteKit, the products, and our API over the last year
Below: 1.3 million views of our products, and everything else we've wanted people to know about what we do, who we employ, etc. All of this from free, organic social media.

Please see our knowledge base (highly searchable) then chat to us on our site with questions.