If it is going to take a few tries and timezones before much of your followers (and hashtag clickers) see it, Repeat it.
So, perhaps you set up your Rite.ly call-to-action with your brand logo and either text or a short video that makes RiteKit more than pay for itself. Now it's time to multiply the effects of evergreen and yes, blatantly self-promotional postsby multi-scheduling them to be published from RiteForge and RiteBoost.
RiteForge: Set any post to get published for one date, then do it again with "add to queue" in Composer (RiteForge site, mobile app or browser extension) or even any post already scheduled
In Composer, which opens when you click the RiteForge browser button or highlight test and right-click for "Share with RiteForge," craft your post, Enhance, tweak images, hashtags, and then click the down arrow beside Enhance.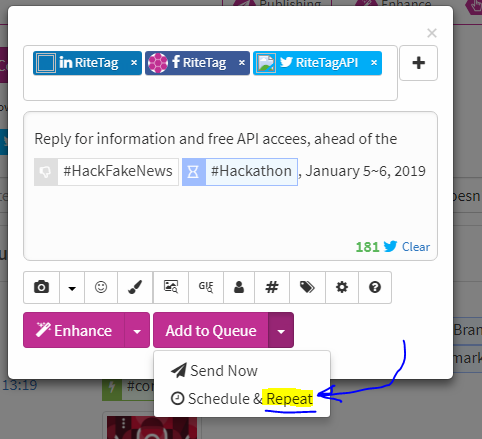 Schedule once with Add to Queue.
Schedule again with add to queue once or more times and then, in your RiteForge dashboard, select the social profile queue, hit Shuffle to blend the scheduled posts with other scheduled posts.
How to Repeat any post in the RiteBoost Bulk Creator Dashboard (you can also set Repeats in Scheduled, as explained above)
Choose a Source, Reload if needed, Enhance or Enhance with the tools and select all and Add to Queue.
Select all again, Add to queue with Shuffle selected.
Why repeat yourself?
The most powerful take-away I got from a podcast with the head of marketing at TV Shopping Japan was the following:
Of those who will buy a product off an infomercial, on average, they will see it 11.2 times before they call the toll-free number.
I'm sorry, I don't have a name or link for that. It resonated with me, though.
I do have this: "A consumer won't purchase your product or service until it has been a part of your campaign seven times. Still others say that 20 is the magic number." - How Many Times do Prospects Need to See Your Stuff Before They Buy? - Mike Lieberman / Chief Inbound Scientist
Mike goes on to make his point: Our perspective is a little different. People make purchase decisions ONLY when their pain becomes acute. This event (the pain becoming acute) is impossible to predict and impossible to influence. 
I would submit to you that there's wisdom to be garnered from both messages: people do not generally buy (or take action) the first time they are offered something and also, you need to catch them when they need what you are providing.
Marketo published The Definitive Guide to Lead Nurturing which includes these startling numbers: up to 95 percent of qualified prospects on your Web site are there to research and are not yet ready to talk with a sales rep, but...
As many as 70 percent of them will eventually buy a product from you - or your competitors. 
Right, then. Whatever will you do with this power...? 
When a post is evergreen, or repostable again and again, you should use the Repeat feature to:
Hit people when they are looking. They are not reading your posts every day. Raise the odds that you will catch them.
Reach audiences in different timeszones. Set a Repeat once for one time and multiple days, and skip a few days, at least. Set the same post with similar frequency, different days, and a very different time.
Get the best of your blog seen by new followers. They never read it before they read your social media posts, but articles you published months or years ago may still be totally relevant to their needs. Catch them now.
Share the tutorials that you put so much time into. While you may only earn the interest of a few people each time you post, the numbers add up when you schedule more than once.
You-isms: your original quotes! Make them with the " tool. Write, select an Image/GIF Template, and once you've scheduled one, change to another Template and schedule a couple more.
Share testimonials! When customers, clients and journalists praise your work/products, you might add some of their quotes to your site, but you should also mix them into your social stream. Use the " tool and paste text, attribute to author and in the next line, blog, or, when you have the RiteForge browser extension installed, highlight text with your mouse, and right-click to Share with RiteForge (and choose one of your Image/GIF Templates). When a senior editor at Mashable used RiteTag as her data source in this article, I did this with it: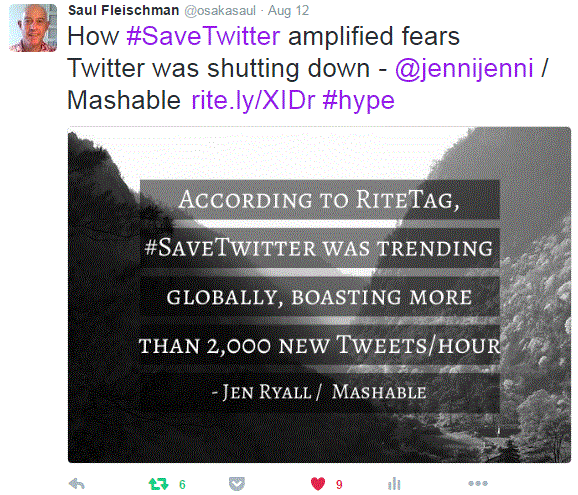 Here's the original Tweet (above). You'll find an old rite.ly CTA of mine displaying on the mashable article if you click the rite.ly link in the Tweet.
Retweets/Reshares (Facebook) of those who Tweeted complimentary things about you, your products/services/etc. Just be sure to get an image by clicking in a word/hashtag and then the image tool, to add an image with attribution.
Mix up how you share your blog and clients' blogs: Highlight something quotable from an article and right-click to make an image from it (as above), then replace the text with an abbreviated article title and use your RiteForge Emoji tool to dress it up.
Use your Quotes Source in RiteBoost, Enhance a few and set the ones you agree with most and multi-schedule.
Crowdsource with questions that let your audience share their thought leadership. Compile their answers in a blog article. You'll probably forge a few alliances this way!
Sell. Yes, self-promote.

Hawk your wares

. It's okay; just intersperse the self-poromotional stuff with a healthy dose of non self-promotional content. Use RiteBoost to pull in material, soft-sell with your Rite.ly CTA, and it's actually okay. RiteKit and social media is supposed to pay you back for your time, after all.
If it is the type of post that gives your audience confidence to make to move from information consumer to customer and if it means business in this manner today and tomorrow, Repeat that post.