MeetEdgar is great - if you have a very active blog, Youtube channel and produce a lot of your own content.
Guess what: you really don't need to have a blog, blog regularly, make and edit tons of Youtube videos. There's heaps of great content already out there that's right for your target audience or market. Just curate and advertise to those that click links in your social posts. It's what we do.
With the RIteKit Package, you import content from your own sources - as well as anyone's Youtube, Twitter, Pinterest, Twich, Instagram, and in all, 14 sources. Then, auto-generate social posts with auto-hashtagging, auto-emojis, attribution that tags authors of content in Twitter - and your URLs get your advertisement seen by those that click your URLs.
See the main Package help page for all you can do with the Package or, if you're ready to do a free, no-credit-card, no obligation trial, the fast setup page.
With the RiteKit Package, for strategy, you can do as we do in social: build your audience by sharing the content of others - including top influencer's stuff - while soft-selling with your text, image and video advertisements that our seen by those that click your links.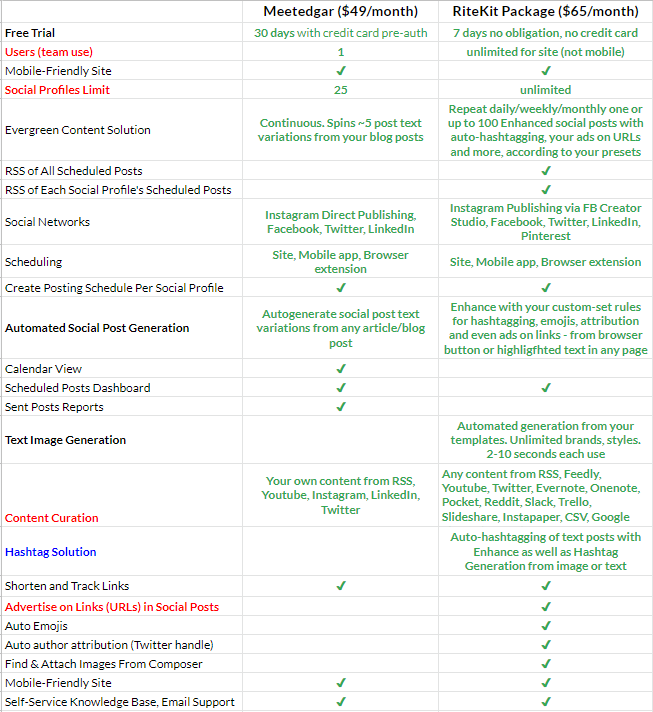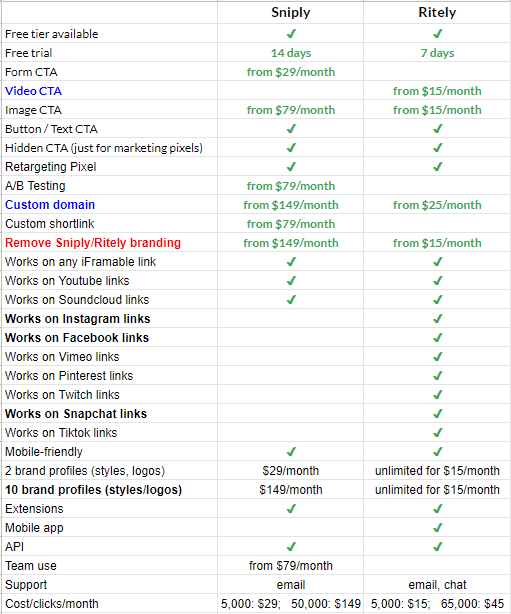 The value:
Generous tiers of all products so you wont need to upgrade further. If purchased individually from RiteKit, total cost: $97.08/month. If purchased as Buffer+Snip.ly+MeetEdgar: $263/month. Rite.ly goes far beyond Sniply Business ($149) with Snapchat/Tiktok/Instagram and video ads. RiteBoost's Bulk Creator automation dashboard powers generation of quality social posts from 14 types of sources of content, far more than Meetedgar. Unlimited seats (users) - add unlimited users by adding their social profiles (100% of desktop use, including browser extensions for all products; the main user gets all of the mobile apps. Sub users would need to pay individually for RiteTag mobile if needed.)
And it's $65/month, not $263/month, for everything. Even less when you pay yearly.
The RiteKit Package is the best choice for organizations and businesses in need of a complete solution for social media content curation, post generation, social advertising* and publishing.
Curate and auto-generate posts from any of 14 sources. Soft-sell by advertising over other people's Youtube, Vimeo, Tiktok and Snapchat videos, Instagram and Facebook posts blog posts and most web pages. Share one RiteKit Package account with as many team members as you like - with no added cost per "seat" (user)!
*Without paying for promoted posts or ads. You will advertise with your free, organic social posts. Everywhere you can share a link (URL), you will get your brand and offers seen.