With Rite.ly, and especially when used within the Enhance feature (RiteBoost and RiteForge), when you share a URL in a social post, forum or email, etc., you get a way to retain your connection with your audience. You can display a text, image or video ad on top of the page that opens when people click that URL. You can entice people to follow you here or there, get newsletter signups, launch a startup or even sell something. You can embed multiple tracking pixels for social ad audience targetting, but we're going to focus on why and how we need to try adding a delay before your Link Ads appear to those who click your Rite.ly URLs.
Nielsen and Taboola just teamed up to provide a new study on the 'Moments of Next': the key points at which consumers are most open and receptive to different types of content, and what that means for marketers.
Key takeaways for us at RIteKit on harnessing moment of next truths:
There is an 8% lower cognitive load at the end of an article, making the consumer more likely to engage with a next action (or CTA) at the bottom of a page. The moment of next usually occurs between 20 and 30 seconds of content engagement Video ads, when presented in at the moment of next, delivered a 13-23% greater emotional response than YouTube
So, video ads are a thing to do. Giving your audience some time to absorb the content they opened the URL to get before seeing your video ad is also a thing to do.
How to harness moment of next in two ways with each of your Rite.ly Link Ads
Fortunately, the only value-added URL shortener that provides the option to place your self-branded video advertisement on pages you share also has a delay option.
In Rite.ly ("Link Ads" at the top of the RiteKit site), start a new ad and make it a video ad. Any Tube, Vimeo or DailyMotion video URL will work.

Or click the pencil button next to an existing Link Ad to edit it's settings.

Set your "Show after" delay, to give your audience time to get ready for something new before your ad appears.
PRO-TIP: test the sounds feature, too - an audible way to jog your audience's attention, let them know it's time to look for where the sound came from. See how your Ad CTR rate changes, and tweak your ad options for always-improving results.
While we're talking Rite.ly Link Ad optimization, here are the suggestions I give people most:
Name each ad in a way you'll remember it since you'll want to switch between ads you use within your Enhance Presets.
Test the ad types by making new ads rather than changing the type of ad for an existing ad so you get fresh analytics on the new ad to compare with past ads.
Try different positions. Click anywhere on the ad edit page to see where your ad will appear on URLs you share.
Give your audience time to get ready for something new before your ad appears.
CHANGE THE LOGO! It is click/tap to open, and you control it. At RiteKit we have always believed that our customers should promote their brand and their clients' brands - not our's, so be sure to change this. What's more, your button link per ad and logo link per ad need not be the same. So, you can have your main CTA, the button, sending people to one page, but the logo, if clicked, sending them somewhere else. We hope you will use that. An example is how those doing social for clients, as an agency, can have the button, the color scheme, etc., all done for each client, but retain the logo to promote their agency.
Here's a Rite.ly cheat sheet for all of the above: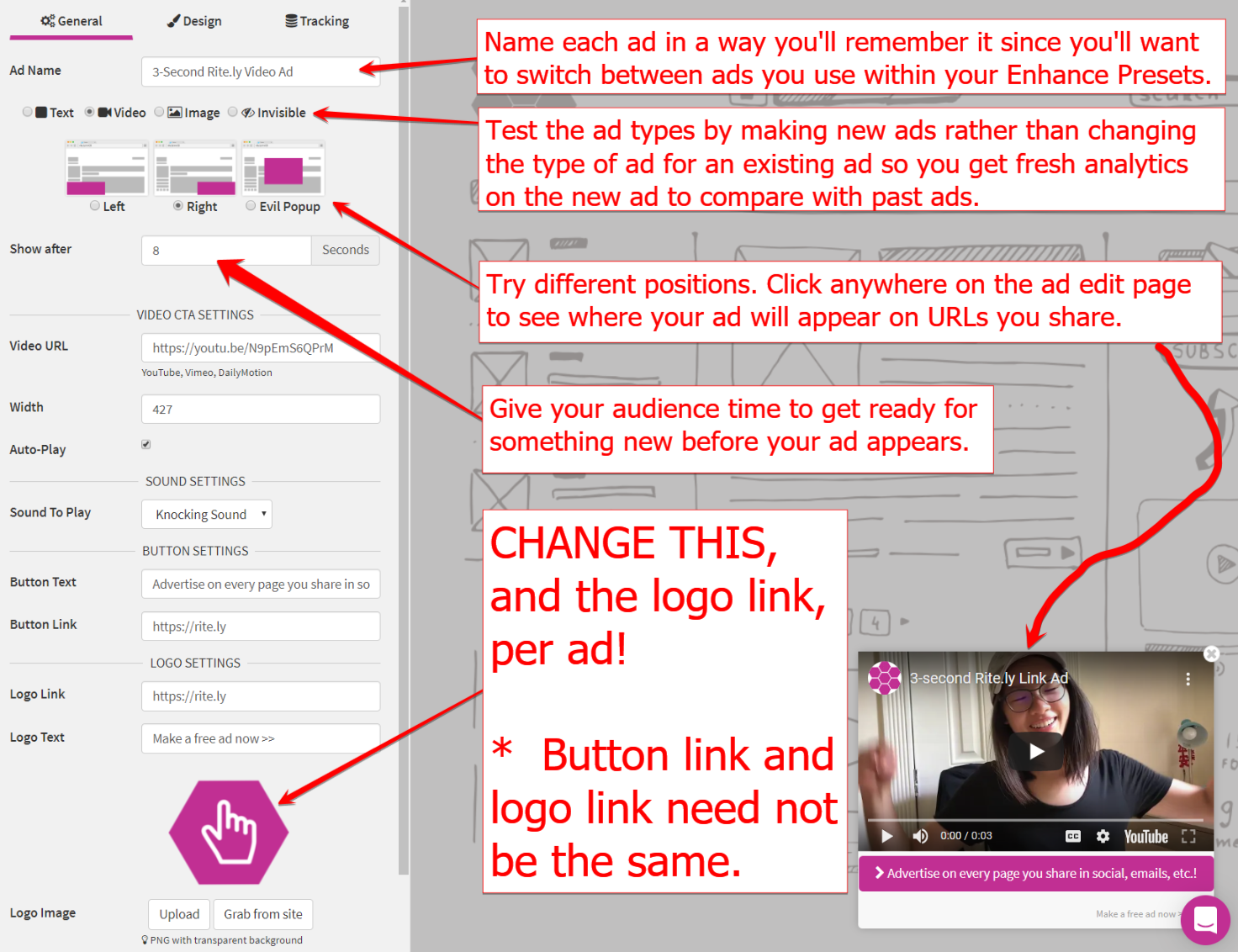 Here is our main tutorial on Rite.ly ad settings.
Note that for links shortened with Rite.ly, Facebook and LinkedIn will not accept them. This is beyond our control; FB and LinkedIn are now blocking all short links created of full URLs. So, if using RiteForge, RiteBoost for scheduling posts, we suggest that you do not shorten links for posts you schedule to LinkedIn or Facebook. If just using Rite.ly, even with custom subdomain, please use them in Tweets, emails, IG comments - and everywhere else - just not in FB or LinkedIn.