How to advertise on any Tiktok video page without paying for Tiktok ads
With Rite.ly, you can share Tiktok videos with your advertisements (Link Ads) riding on top of them. Share to social media, in emails, or anywhere you can share a link (URL). You can also do the same with many other content sources. You can generate Enhanced social posts of multiple Tiktok or Youtube videos with RiteBoost Bulk Creator or single posts, and you can do the same with single posts from Instagram, Snapchat, Facebook, and nearly any blog or news site.
Here is an example of a Tweet in which we advertise on a Manda Lee Tiktok video - from one of the most followed social media influencers on Tiktok. To understand the effect, click the Rite.ly URL in that Tweet. Note that the brand logo in the lower-right is something you would replace with your logo or one of your clients' logos. You can set the logo per link ad - and brands are unlimited with Rite.ly. Thus, you control where people land when they click the Link Ad button, but you also control the logo, and this clicks through to wherever you want as well!
How the Tweet appears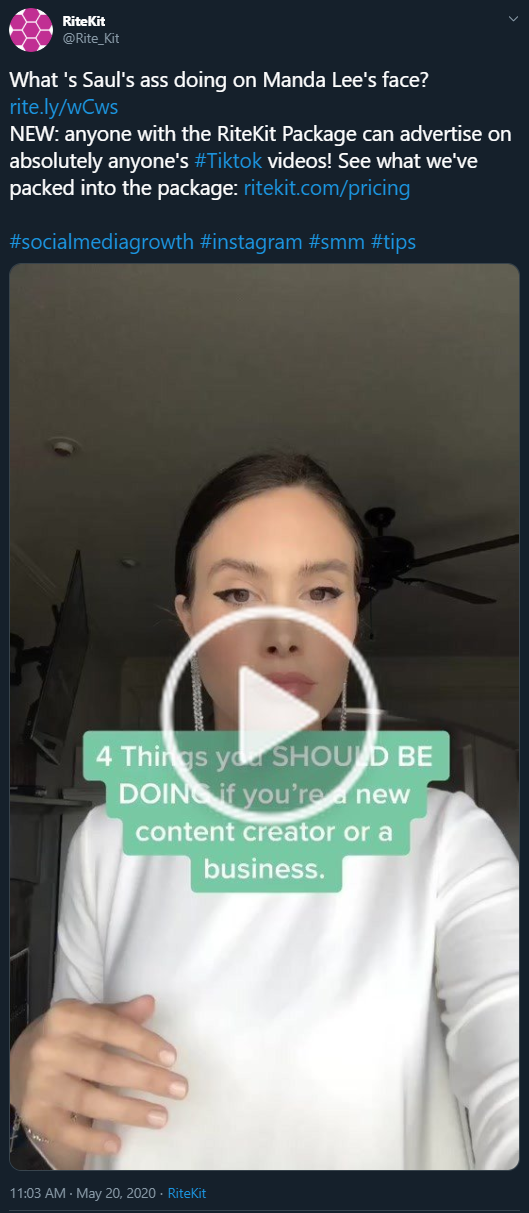 The only marketing "call to action" on the page is the Link Ad!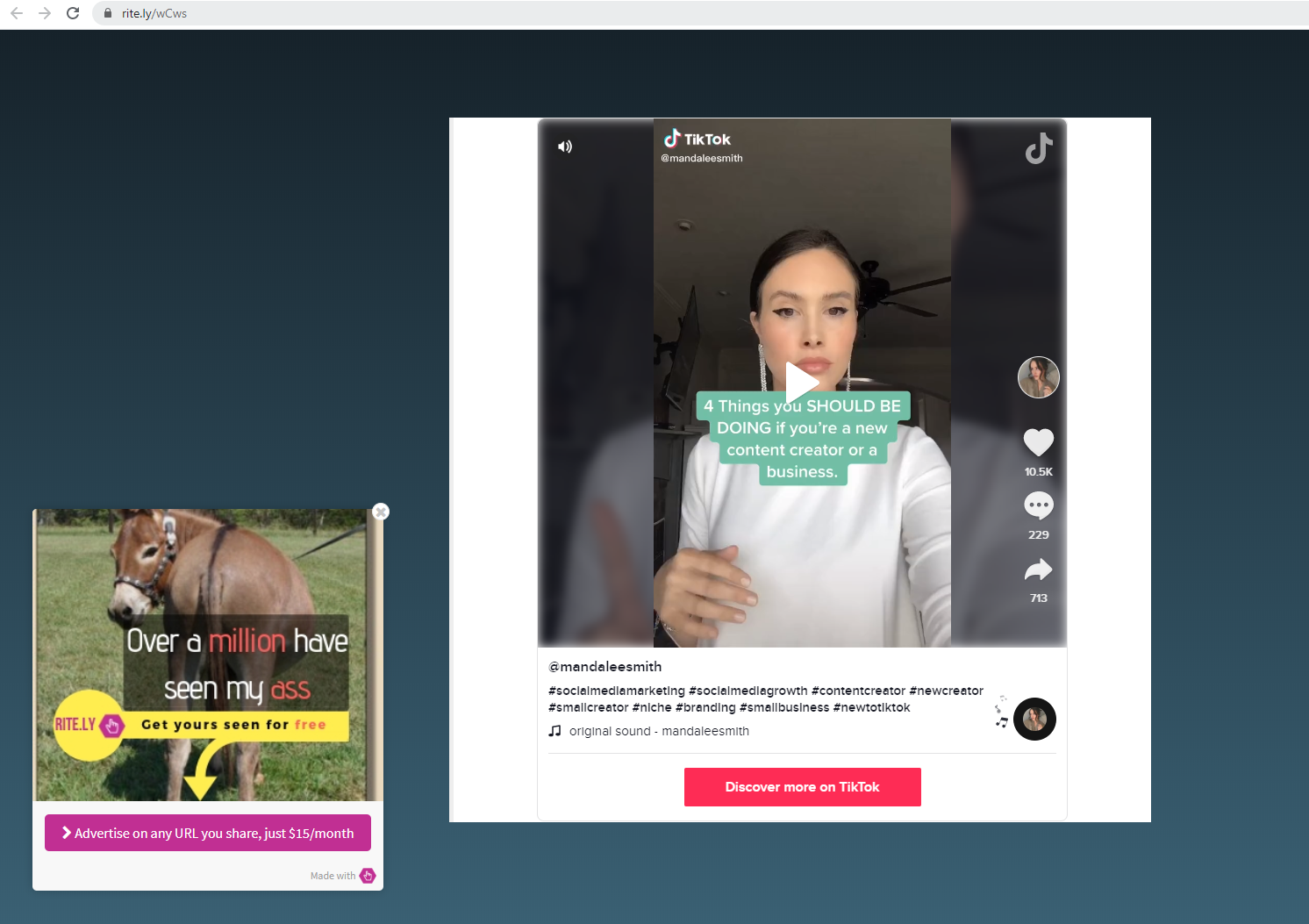 Master the process in 8 minutes for auto-generating many social posts, then sharing multiple Tiktok video to social media
Open in Youtube. You might want to follow our channel, while you're there, for lots of get-it-done-with-RiteKit videos. Zero coffee-talk; all take-away.
TIPS:
For Tiktok, there is currently no way to get a Tiktok video URL on desktop, so you will need to find and email yourself Tiktok videos from your phone. Android users can get the Android RiteForge or RiteBoost app and use the share menu from a Tiktok or other video to Enhance and send/schedule posts with their Link Ad riding on top of the Tiktok/other videos directly from their phone/tablet.
It's also very good to use Rite.ly Image Link Ads on Snapchat, IGTV (Instagram videos), Youtube videos or any videos.
We recommend image Link Ads. Note that animated GIFs can be used as images for images Link Ads.
What you will need:
The RiteKit Package allows for 45,000 Link Ad views per month, and includes Rite.ly and also a large tier of RiteForge, for your social post scheduling, publishing, and Enhancing (auto-hashtag, auto-emojis and much more, as per your customization of Enhance). The Package also includes the RiteBoost automation dashboard and browser extension, as well as your hashtag generation anywhere tool, RiteTag.
You will need to install the RiteForge browser extension from the bottom of our site, getting the extension for your preferred browser. Search our help for instructions for using the Chrome extension code on many other browsers.
How to get many Tiktok videos and generate social posts with your advertisement shown to those who click your links:
Get Google Drive and Drive Sheets apps on your phone, as well as the Tiktok app.
On phone/tablet, use the Discover feature in Tiktok to find very popular content that is just right for your customer/audience.
Use the Share Menu to get the link. Copy, paste in a Google Drive Sheet. (See how to format the sheet, with no headings, social post text in column A, Tiktok link in column B).
Connect Google Sheets in RiteKit Integrations if you have not already.
Click Enhance at the top of RiteKit (opens RiteBoost) and select Bulk Creator , lower left. This is your automation dashboard.
Click +New Formula, select G Sheets, Import the Sheet, and Load from Google Sheet at the bottom:
Modify your default Enhance as needed, paying special care to selection of the right Link Ad to apply to the Tiktok video URLs.
Select All and hit Enhance. Click on any posts hat need manual polishing to use the many tools of RiteForge: get hashtags from words/hashtags, change Link Ad, create image, etc. Remember to save any post you edit with the Save button.
Set social profile(s) in Add to queue, then hit the Add to Queue button.
IMPORTANT: "Reload" will wipe the posts away. If you wish to schedule to multiple Twitter accounts, Select all, set Twitter account in Add to Queue, schedule all, and when the cycle completes, change to another Twitter account, hit Select All, Add to queue. If you Enhance all posts with one Rite.ly Link Ad, unlike all other types of Formulas, you cannot Reload, change Enhance, select all, Enhance; you'll need to make the Formula again. I show this in the video above. It just takes a few seconds.
TIPS:
You can click the edit button beside the Formula name, when the Formula is selected from your Formulas on the left. This way, you can constrain to give you less videos that you would not share - such as "CompetitorName1," "CompetitorName2," if you use this ability to advertise on competitors' Tiktok videos (you would note the competitor's actual names, of course).
Image Link Ads, rather than video ads work better when embedding them on Tiktok, Youtube, Vimeo, IGTV, etc. - any type of videos you are sharing as Rite.lys.
Find the most followed TikTok accounts, as recognized in wikipedia.
You can also search for content in Tiktok. We suggest using the Discover tab from search in Tiktok, and exploring from hashtags.
Also see:
Comparing Rite.ly with Snip.ly
How to advertise on anyone's Youtube videos without paying for Youtube ads
How to advertise on any Snapchat account without paying for Snapchat ads