We hope you are handling the isolation well. We've used the age of Covid-19 to double down on development speed. Thinking about you, the 400K+ who have completed registrations for RiteKit products, we pulled off what you've asked for most: the perfect get it all and lots of it plan.
Non-profits and startups demanded the package; here's why we're giving the same price to all
We originally designed the RiteKit Package as the perfect deep-discount complete solution for non-profits and startups. 45% off for all four tools in large tiers, so you can see that you won't need more. We decided that the way to honor our customers is by making the package available for the same price to everyone: non-profits, startups, solopreneurs, and companies, too.
NGOs Got a June fiscal closing? Do a no-obligation free trial of the RiteKit Package and then get it yearly. If you need the RiteKit Package for multiple users, write us; we can bill you. Or, you can have each team member sign up with their own Twitter/email/Facebook account and then use the same credit card for payment. This works as well.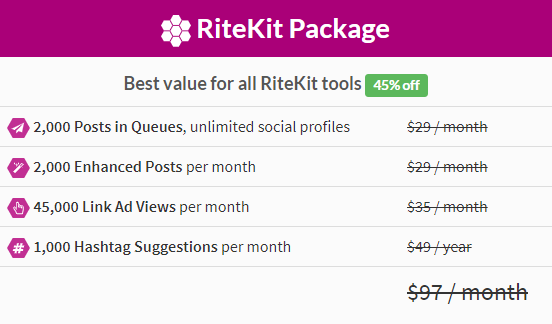 Total: $65/month or $650/year: 45% off. Start a trial here, just below "RiteKit Package." There's no upfront credit card authorization. No tricks, no obligation.
Ready to use it all together? See the Package quick setup guide. See this page for what you'll use the package for and also, we have detailed pages with charts that make it easy to compare with Buffer Premium and Snip.ly Business.
Getting real social ROI with the RiteKit Package
Quick setup and mastery of RiteKit for generating & publishing social posts that get real social ROI
Open in Youtube
Just some of what can be done when you use the RiteKit tools in harmonious unison:
Curate and auto-generate posts from any of 14 source types.
Replace costly solutions for evergreen continual publishing.
Replace needless desktop to Instagram publishing tools.
Step up to unlimited client social profiles, template branded ads, image generation and the most powerful automation dashboard you've ever seen.
Replace Canva/Pablo by generating text images with unlimited brands and your unique custom styling. It's templated so they're 3 seconds, not 6 minutes to make.
Dramatically speed up social post creation, both in the site and anywhere you do social, via browser extensions and mobile apps (included). Gear up with the most state-of-the-art hashtag generator. Besides the browser extension, you get also two RiteTag mobile apps for both iOS and Android.
NEW: Advertise on embedded Tiktok, Snapchat, Youtube, Vimeo videos and Facebook and Instagram post pages. Share to social, in emails and everywhere.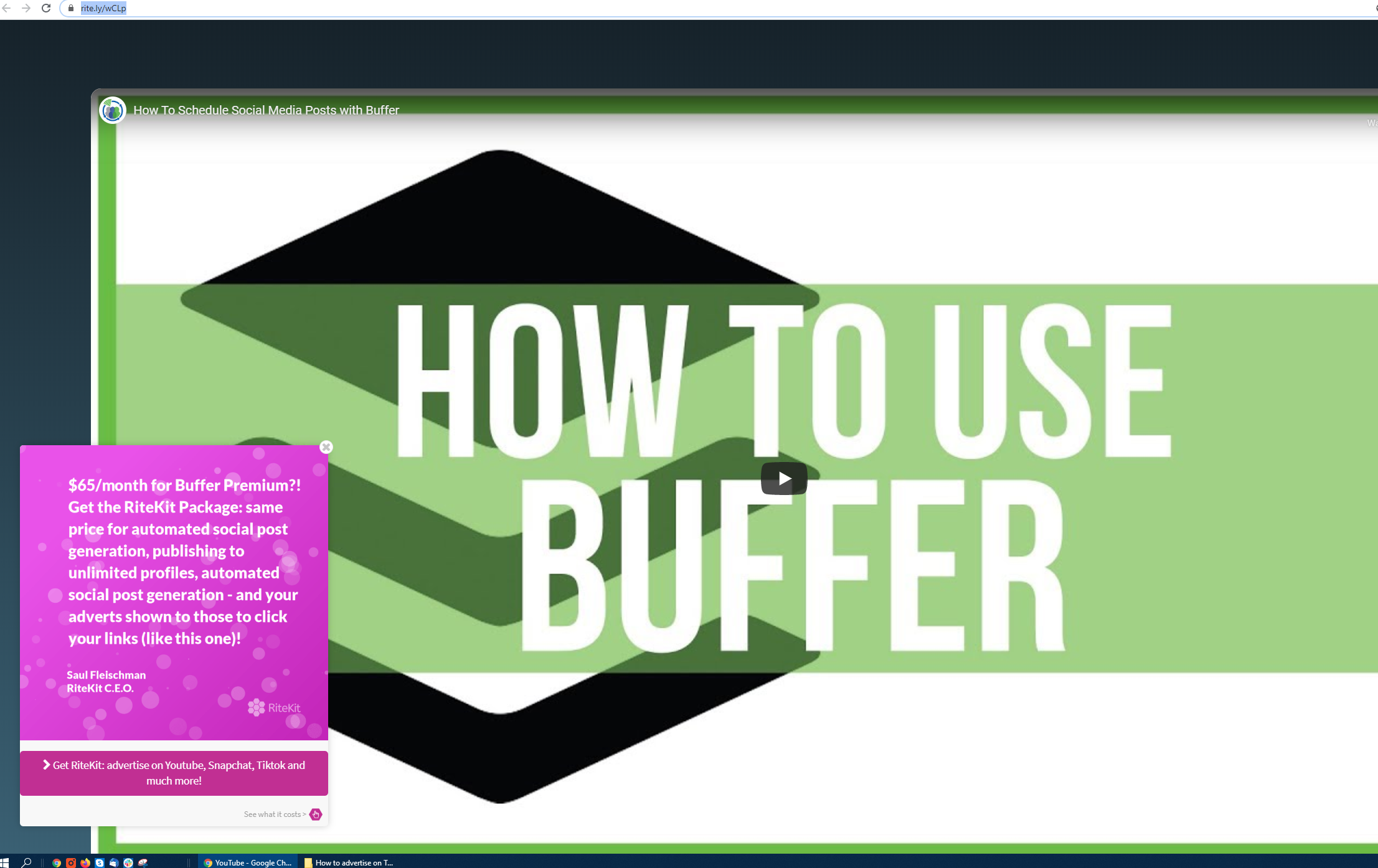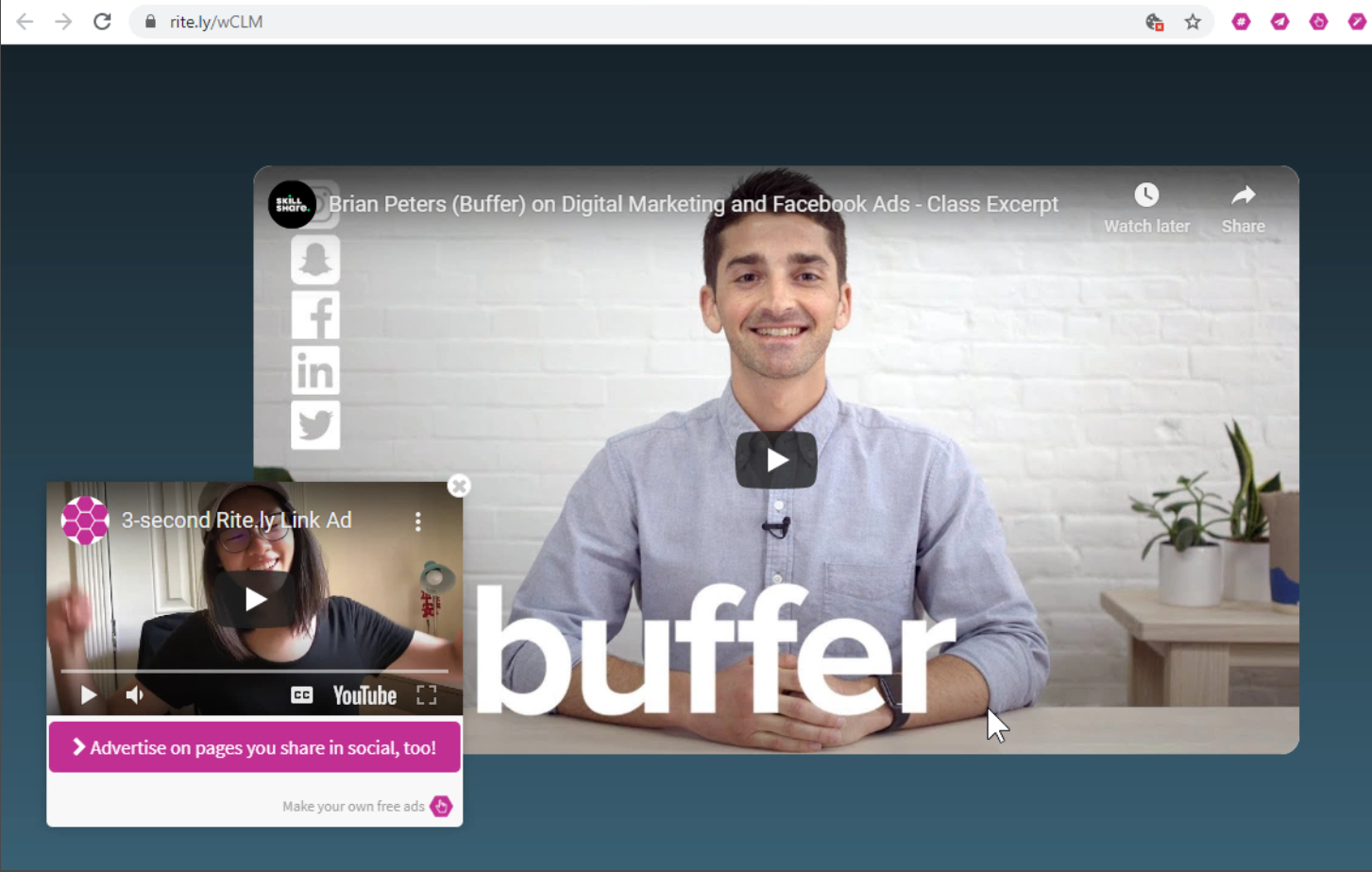 Especially for non-profits and any organization with a June annual closing:
The RiteKit Package is totally new and 45% off when purchased for the year, and there's little chance we'll keep it this low. Lock in for the year and get all the features we will be adding in the coming year. Scoop this up now - especially if your fiscal budget closing is June 30!! Chat to us on the site if you need help with ordering packages for multiple people.
What kind of social stunts can be done with the RiteKit Package and absolutely nothing else?
Maybe I'm going stir-crazy. Yes, that's it. See this Tweet and this gem, too. Click the Rite.ly's to see how we fill the top of our inbound marketing funnel. One more Tweet from my own account.
Who does this...?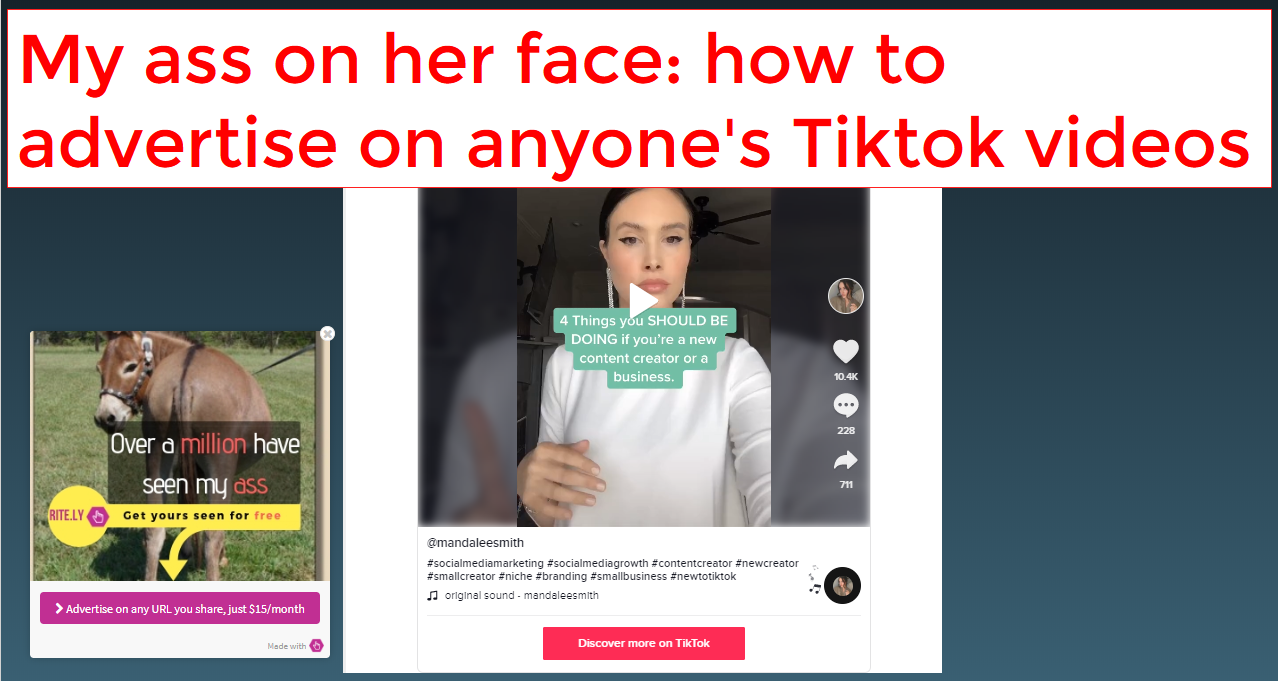 But seriously, here's how to use your RiteKit Package to advertise on anyone's embedded Tiktok posts.
Stay well, stay safe and please stay sane.