Enhance is a core feature of both RiteBoost and RiteForge. It does what you want it to, any/all of the following time-savers in one click:

Auto hashtaging
Auto emojify
Author attribution
Image generation from the title of a web page
Image extraction of the featured image of a page
URL shortening, with or without your choice of your self-branded Link Ads (text/image/video messages or ads that appear on pages shared as links in your social posts)
Replacement of text, hashtags, @usernames or emoji with text, hashtags, @usernames or emoji (or combinations thereof)
Append: add hashtag(s) and/or your signature emoji(s) to posts by default
Got RiteForge or RiteBoost? Customize your default Enhance preset or make more presets here.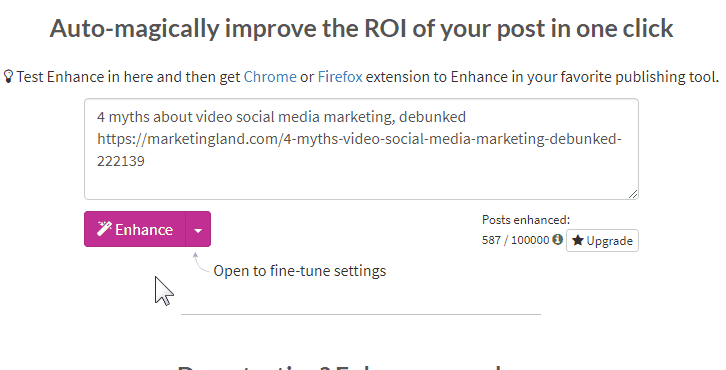 Try Enhance here, either with the stock text and URL or with your own.
Enhance can do any of the following functions or any combination of them.
Let's look at the time savings of each of the features you can set your Enhance presets to do.
Tired of opening a new tab for every Pablo or Canva image you make, then sending it back to a Buffer/etc. publisher?
Generate branded text quote images with the Image Gif Templates that can be your image solution in any Enhance template. How long do you spend choosing an image to attach to a Facebook update, Tweet, Pinterest Pin or LinkedIn update, or in creating a text quote image with a stand-alone tool such as Buffer's Pablo or Canva?
Image generation is templated here and with unlimited Image/GIF Templates, your different Enhance presets might be organized by brands or projects, with different fonts, logos and color schemes. With the RiteForge browser extension, you will also want to highlight text and use your templates. Learn more.

TIME SAVINGS: 2~3 minutes
Why spend any time at all choosing from a gallery of images when usually, the featured image from a page is your solution? Just use the Extract images from link option in your Enhance preset to have this done automatically.

TIME SAVINGS: 15 seconds
Hashtags: they'll get you a little more engagement, follows and social search exposure, but are they worth researching in a website such as RiteTag, Hashtagify.me, etc.? Auto-hashtag gives you one, two or more hashtags (your choice), either blended into the post text or following the post text (your choice), and then, let's you edit hashtags when needed.

TIME SAVINGS: 2 minutes
Auto-Emojify: they sure liven up a post, but browser extensions and mobile apps have you searching through large boards of emoji by category and involve too many time-consuming steps. Auto-emojify eliminates to need to bother with any of them.

TIME SAVINGS: 1 minute
Author attribution: Let the author know you shared their post or page. This tends to get you noticed, in turn. You can usually find a blog article author's Twitter handle on pages, but might need to search for it a bit. Is it at the top? The bottom? Within an author bio...? It's far more convenient to get and add the author's Twitter handle as part of what your Enhance presets do.

TIME SAVINGS: 30 seconds
Keep the connection with your social media audience, fill a marketing funnel or just plain sell when you share web pages by URLs in social posts
When people click on a URL in your posts, if they're not sent to pages on your site or Youtube channel, etc., the connection with you is lost. Rite.ly Link Ads, which can be incorporated into Enhance (free or paid) solves this. Stand-alone tools like Snip.ly and Back.ly exist, and while none of them but Rite.ly offers video link ads, even worse is how it is generally a process in itself just to do link shortening with a message/ad placed on pages linked with a tiny URL. Link shortening with your ad or message, to appear on pages shared in your social posts (and everywhere), is a great way to both get exposure and also fill the top of your marketing funnel.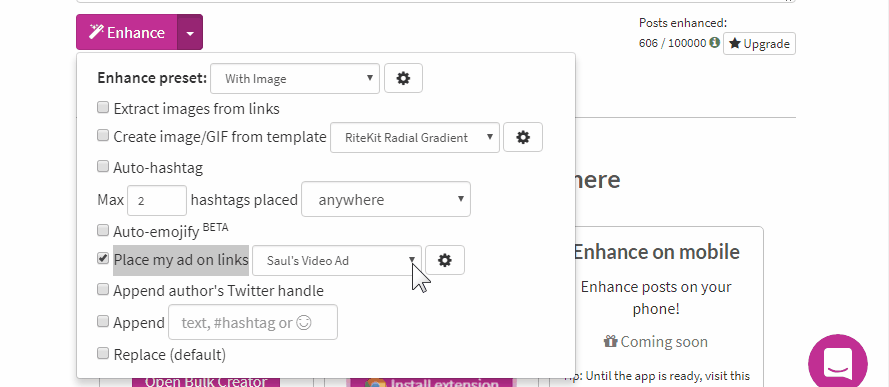 TIME SAVINGS: 30 seconds
Why keep adding the same hashtag to posts manually (events, etc.)?
When promoting an event or campaign, you might want to add one or more event/etc. hashtags to posts by default. Why not include this in the append feature of one or more Enhance presets?

TIME SAVINGS: 5 seconds
Replace rules eliminate many little nuisances associated with text formatting
Ever see your product/company name in a post and think to make it a #hashtag? Replace rules in Enhance save time whenever these situations are going to come up frequently.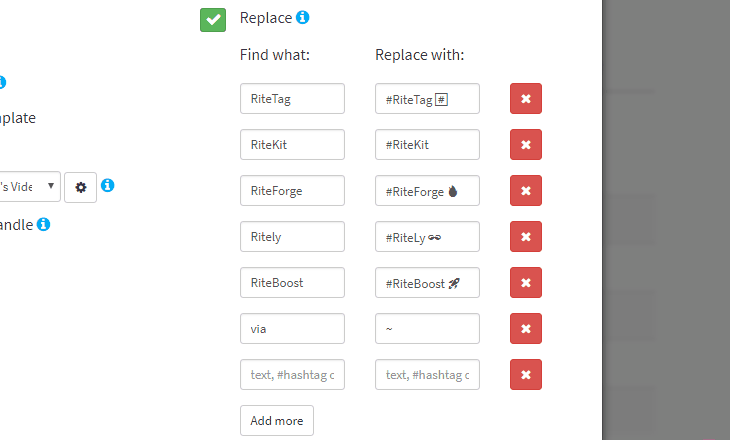 TIME SAVINGS: 5 seconds
What's your time worth to you, and how much time do you want to invest in creating the perfect social post?
With one mouse click, Enhance takes 1~3 seconds to do everything you want it to. Depending on what each of your Enhance presets is customized to do, you're saving 2~6 minutes on the creation of nearly every social media post you create - at a cost of under $0.02 each time. So, what's your time worth? RiteBoost gives you 500 Enhances/month for US$9.00, and your cost per Enhance goes down even further when you pay yearly and/or opt for a higher tier of RiteBoost.
Here's a Tweet of mine that I created in three seconds with RiteForge, by highlighting text in a page, right-clicking and selecting one of my image/GIF templates to Enhance (here's how). https://twitter.com/osakasaul/status/994720373202669568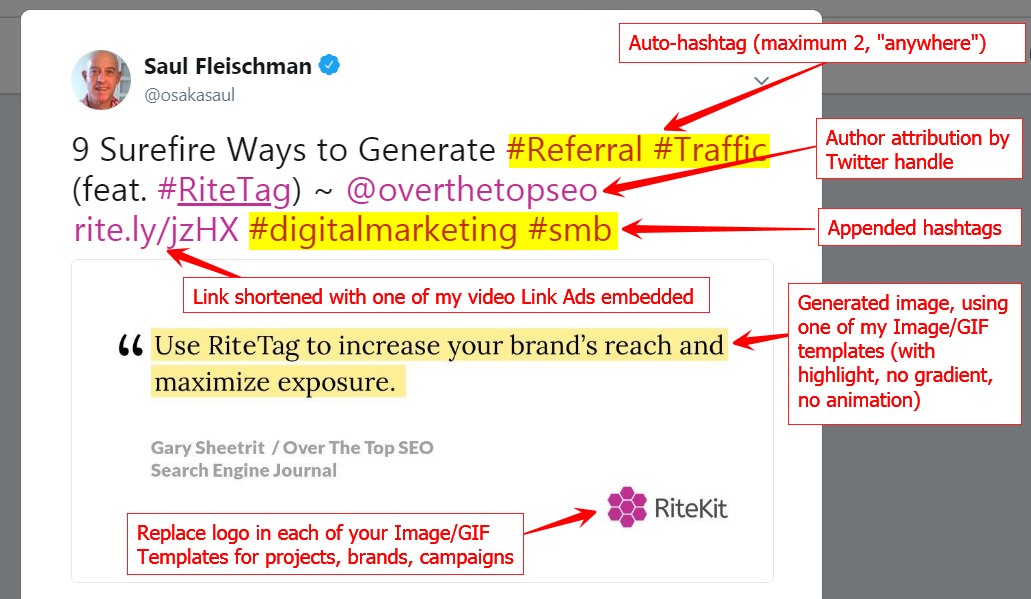 How long would it take you to do all the enhancements above?
How's a penny and a half per Enhance?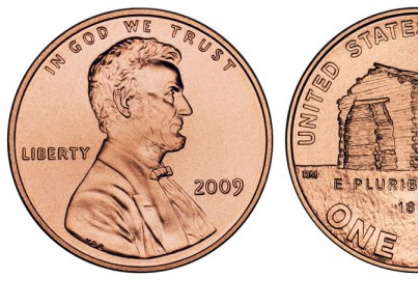 See our pricing to compare plans and see everything that comes with RiteBoost and RiteForge. Here's more on the differences between RiteKit products.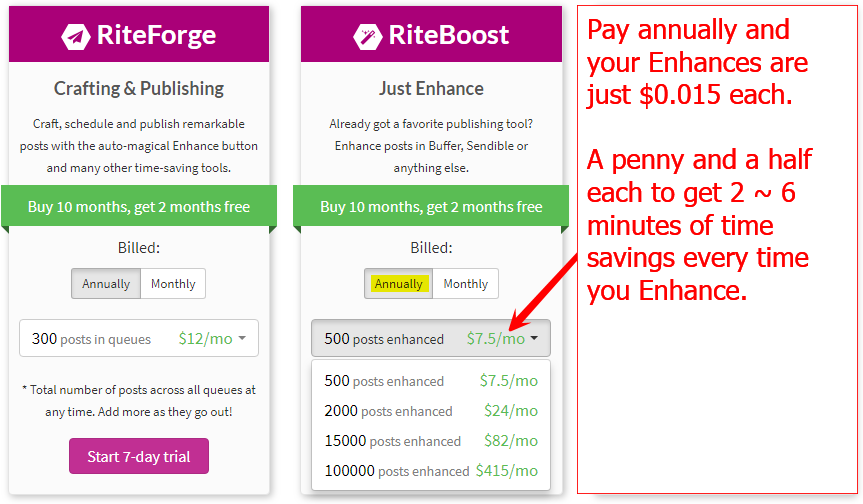 How is Enhance made available in your workflow with RiteBoost and RiteForge?
RiteBoost lets you use your Enhance Presets within all social media publishing tools, such as Hootsuite, Buffer, Sproutsocial, Hubspot, etc. You get the RiteBoost browser extension and right-click in a text or text+URL post to get your Enhance Presets in the mouse menu. The mobile app is also included with all RiteBoost plans. You also get Enhance in Zapier and the automation dashboard, Bulk Creator, with all RiteBoost plans: import from fourteen sources, filter and Enhance blog posts, video posts, etc. to generate vivid social media posts with all the elements you want. Create up to 100 posts at a time and schedule each to one or more social media profile queues. Go full-auto to do this with every new item from a content source. (Bulk creator must be used with a publisher: RiteForge, Buffer or Sendible. The extension Enhances, but lets you use any existing social media publisher.) Tiers are based on number of Enhances.
RiteForge let's you Enhance and also use several other visual, hashtag, emoji and other social media post enhancement tools when you share web pages using the RiteForge browser extension or mobile app. (Can be used as your publisher for RiteBoost.) Tiers are based on the maximum number of posts that you can have queued to get published to all social media profiles, pages, Pinterest Boards and LinkedIn profiles and pages.
Here's more on the differences between RiteKit products.
Here's help with comparing Ritekit's product pricing with the closest competitors' prices.
Customizing your default Enhance and saving additional Enhance presets
To customize your default Enhance and create additional Enhance presets, click the RiteKit logo, top-left of our site. Then, click the Enhance tab.
Would you charge clients a penny and half for each post that you've crafted and optimized in every way possible?
Enhance in RiteBoost:
Enhance in RiteForge: