Mr. Ling shared some of his results, marketing investment properties in Australia on social media with RiteKit. We asked him to share as much as possible on how he does it and the results he's getting.
Clarence Ling, CLASS Digital Marketing
Company site: https://www.clarenceling.com
Twitter handle: @CLASSDIGITALAU
https://www.facebook.com/CLASSDIGITALAU/
+61413665375 (Australia) +60128181160 (Malaysia)
International Real Estate: Foreign Sales of Australian Property to Asians.
Sales Regions: Asia Pacific with focus on Malaysia and Brunei.
Location of Properties: Primarily Perth & Melbourne, Australia.
What tools (RiteKit products included) do you rely on most for your own social presence and for clients, if you manage their social?
RiteForge, RiteBoost and Rite.ly
What are your favorite RiteKit product integrations?
Buffer + RiteBoost. Buffer has analytics that RiteForge and RiteBoost lack. Buffer is relatively easy to use and I like the share image function in Buffer but love the power of RiteBoost. Buffer + RiteBoost is really powerful and gives RiteKit the power to do Google+ page posts, which, at the time of writing, is not possible with RiteForge.
What element of a RiteKit product saves you the most time?
RiteForge and RiteBoost: Auto hashtags and Rite.ly link shortening. Being able to handle multiple accounts on the RiteForge and RiteBoost Bulk Creator dashboards.
How many times/week do you open your RiteBoost dashboard and about how long do you spend each time?
Once every two to three days, managing my own and my clients' accounts takes one to one and a half hours to do everything ready to roll out for the next few days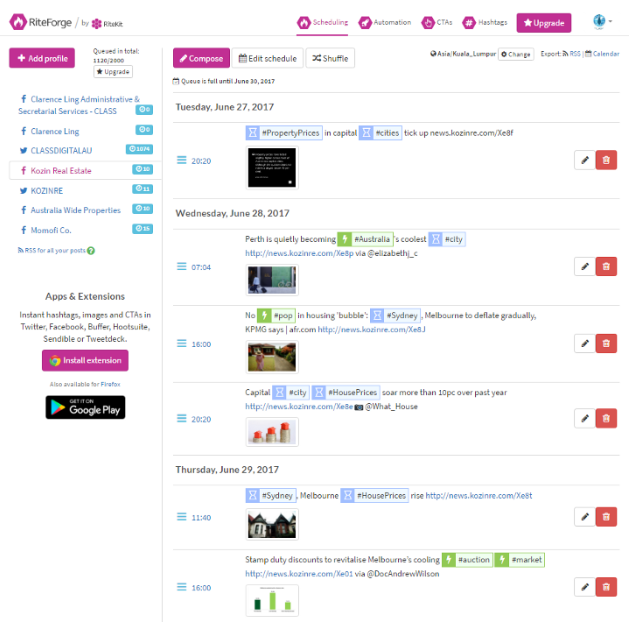 Describe the best outcomes you're getting from your Rite.ly CTAs? Can you attribute inquiries, sales, or other business to your social presence, together with Rite.ly CTAs?
Getting people directed to landing pages through Rite.ly CTA, where they register interest in a property, giving me leads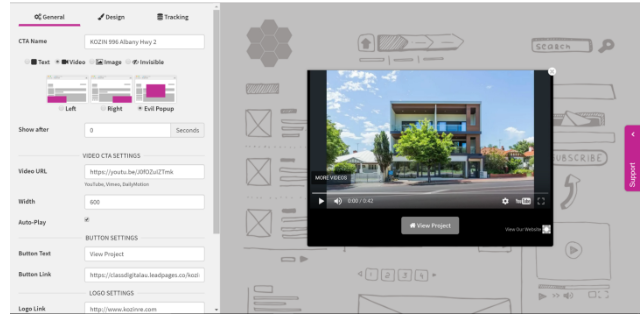 How does such a client measure how well you do for them?
Social engagements and number of sales
What's the best way to "wow" such a client?
Show that you can get them as much exposure as possible in as many avenues as possible at the lowest cost. In marketing there is a saying that people need to be exposed to your product or service at least three different times before they buy  - RiteKit is able to act as one of these points of contact
Are you taking on new clients and what's the best way for people to contact you?
Yes I am taking on new clients. Best way is to email on clarence@clarenceling.com or Mobile: +61413665375 (Australia) +60128181160 (Malaysia)
Let's see a couple of your Rite.ly analytics and the CTAs, themselves!
So, you're getting about a 3% click-through rate on these two Rite.ly CTAs. Can you show us what kind of social posts you are sharing the CTAs on (embedded in your tinyURLs)?
So, what's the best click-through rate you're getting on a Rite.ly CTA?

I have one that's getting close to 8%, but that's my secret weapon. Contract with CLASS Digital Marketing: that's my advice, if you want the best results and fast!
Please share your RiteKit wishlist: what do you want RiteKit products to do?
Live Facebook Hashtags. Detailed Post Analytics for RiteForge & RitePush for all supported social media platforms if possible. An improved scheduling system for RiteForge that is more user friendly and needs less manual tweaking.
What other tools or services do you want RiteKit to integrate with (and how)?
Zapier for integrations with third party apps, or integration with Zoho CRM in terms of analytics etc because I use Zoho for my CRM.
Would you like to share any advice for those just starting out in your line of business?
Be open to anything, keep up to date with developments and be ready to try new things at least once. I tried RiteKit and never turned back!

Saul, Michal and their team do their best to keep up with developments and produce new innovations. Things get broken temporarily, and although that can be frustrating, it is a sign of a company willing to be daring, pushing the envelope and giving you one of the best and powerful SaaS products I have found.
If any RiteKit products are part of what's helping you get positive results in social, telll us about it and we can publish it as a case study article like this!
Write us and please include screenshots as .png attachments.