You can isolate and reshare your most successful published posts from RiteForge or even sent from anywhere!
Sent post analytics are available for all sent posts over the last 30 days, not just those you sent from RiteKit. Thus, you can use RiteForge Analytics to surface successful posts, polish with Rite.ly advertising, etc. - even from before you started using RiteKit or RiteForge, if it was very recently!
Identify easily the Tweets, LinkedIn Company Page Posts and Facebook Page Posts that got you the best results in the last 30 days and set them up to reshare to any of the social profiles you have connected in RiteForge.
Chose the metric that matters most, whether that be in engagement, shares, impressions or in clicks on Rite.ly URLs in your Tweets (e.g. Tweets that compelled the most people to click the Rite.ly URL and then see your advertisement). The metrics vary somewhat for Facebook and LinkedIn; there is less data available on your published posts for these social networks.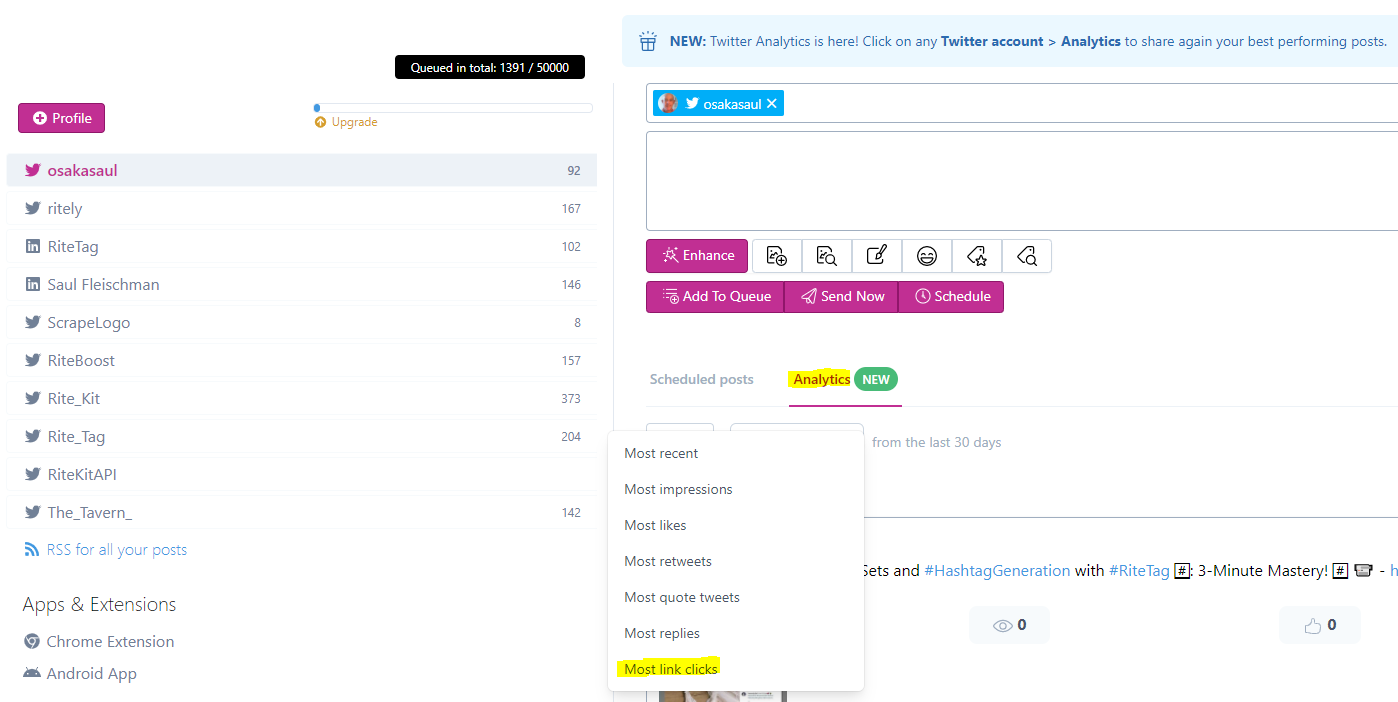 How to get set up for RiteForge Analytics (reconnect each Twitter account and Linkedin Page, Facebook Page)
For Twitter Accounts
For each Twitter account that you have connected in your RiteKit Dashboard for publishing Tweets, you will need to open a new browser tab and login to that Twitter account.
In your RiteKit Dashboard, hit the + beside Profiles in the Twitter section.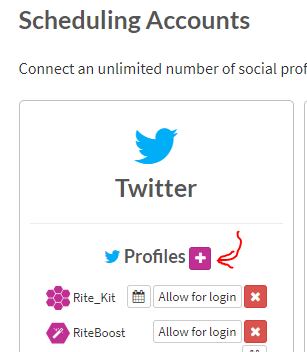 Repeat this process for each Twitter account you already have set up for RiteForge publishing as well as any other Twitter accounts you wish to add.
For LinkedIn Company Pages and Facebook Pages In your RiteKit Dashboard, hit the + beside Pages in the LinkedIn and Facebook sections.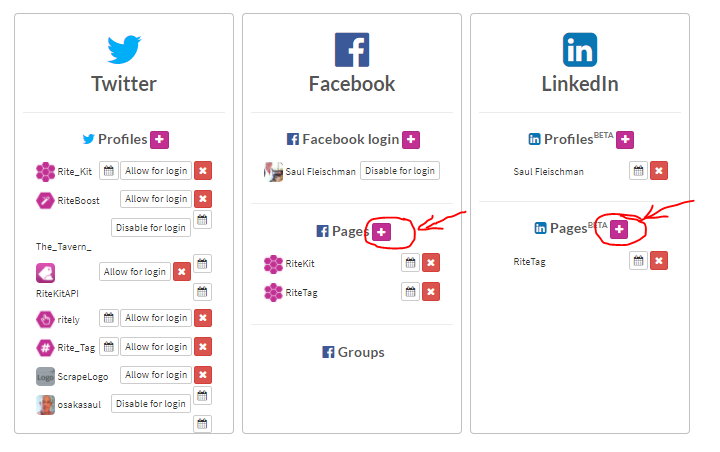 How to find and reschedule or share the most successful posts
Click on any social profile queue on the left side of your RiteForge Dashboard.
Click on the Analytics tab.
Use the pull-down to re-order analytics on sent tweets/posts based on the metric that matters most to you: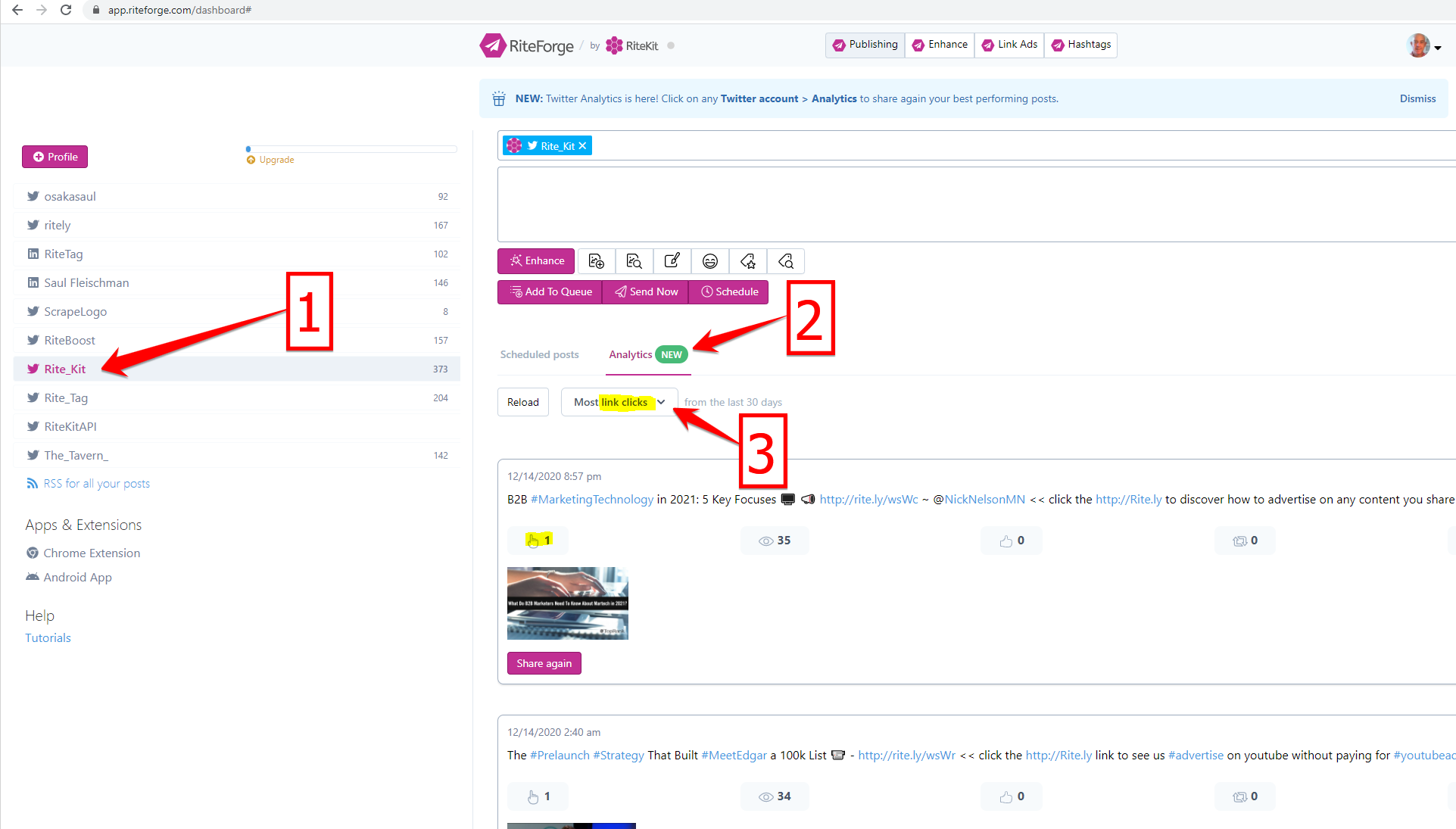 Use the Share Again button under each published post to send the post to the Composer, where you can change the Link Ad, hashtags, or make any other modifications you might wish to make.
Use the send/scheduling options to publish the Tweet or post again to the same or a different social profile (Twitter or other social profile)
Things to do with RiteForge Analytics to improve your average engagement/Tweet and activate your marketing funnel:
Just started a trial of RiteForge or the RiteKit Package? Add every possible Twitter account here, then in your RiteKit Dashboard find the top-performing Tweets per Twitter account. Hit Reshare, enhance, and if there was no Rite.ly URL in the Tweet, ensure that you are now advertising when you reshare the Tweet that you can be fairly sure will score with your audience again based on past performance! See how to add unlimited social profiles for RiteForge and RiteKit Package customers.
Get better results for clients whose Twitter accounts and Rite.ly advertising you manage by resharing plenty of their Twitter accounts' Most link clicks Tweets with what you have already scheduled for them.
Remember that you can set a Tweet up from Analytics with Reshare and then Add to queue multiple times - and then, hit the Scheduled posts tab for the Twitter account, and then the Shuffle queue button.
Frequent use of RiteForge Analytics are the foolproof way to optimize your advertising and engagement on Organic Tweets
Organic Tweets* can contain a tap/click-to-open link (URL), while Instagram makes URLs unclickable/tap-to-open in post captions and comments, and due to where we can get data, this is available only for Twitter. Note that you can add unlimited Twitter accounts in RiteForge (any tier), so this is something to take advantage of, especially if you are developing Twitter accounts for current or future usage. We are now working on analytics on posts sent to other social networks.
Organic Tweets: as apposed to advertisements or "Promoted Tweets"
Only with RiteKit you can isolate published social posts that got best results in the last 30 days, whether that be in shares, engagement, impressions or in clicks on Rite.ly URLs in your posts - whether you sent with RiteKit or anything else!