We've added lots to the RiteTag app, and the experience is the same for both Android and iOS. The big news is for everyone who is an owner or manager of Facebook pages, since each of them has an Instagram Business Account connected to it. Below is the how-to for getting your hashtags for Instagram Business Account posts, I'll also give you a fast process for getting hashtags for your Instagram Personal Account post captions and photos as well as for commenting on anyone's Instagram account - of any type.
Many will tell you: in Instagram, Twitter and Youtube - and now, Pinterest and LinkedIn as well, it's done with hashtags.
There is no perfect hashtag to use on all posts in Instagram. In fact, if you use the same hashtag on too many posts, or even if you use the same groups of hashtags, as are typically provided by most hashtag apps, you risk being shadow-banned (your posts will not appear in Explore Pages in Instagram; you wont get followed as much as you would, if this happens).
At the very least, by not using the tool that generates hashtags specifically for your photos and captions, you miss out on most of the potential positive affects that can be garnered by always posting with a different blend of real-time engagement tested hashtags. The solution is easy, both for Instagram Business Accounts and also for Instagram Personal Accounts. Either way, you need the RiteTag (https://ritetag.com/) Mobile app. It is part of RiteTag Pro (as of this posting, currently just $49/year), which not only includes the mobile app (iOS and Android), but also the browser extension (Chrome, Firefox and Safari), and also full RiteTag site features.
Get RiteTag Android or RiteTag iOS
Get one or more Instagram Business Accounts? Get a ready-made hashtags comment for each individual photo/caption by notification!
RiteTag now generates hashtags for your photos and captions - and you don't even need to open the app to get them!
Once you install the RiteTag mobile, you don't even need to open the app to have iut working for you. Just install the app, let RiteTag deliver hashtags by notification after you upload photos to Instagram. This works whether you post natively in Instagram and also if you use third-party apps or desktop Instagram scheduling solutions. Due to Instagram API limitations, the notifications feature works only with Instagram Business Accounts, but can handle multiple Instagram Business Accounts.
The steps:
Install RiteTag app for iOS or Android
Open the app and go to Hashtags for Instagram tool via menu in the top left corner
Tap on Sign in with Facebook and approve all dialogs shown by Facebook (there will be several of them). This will give RiteTag permissions to load and post comments on photos from all your Instagram Business Accounts.
When you post a new photo to Instagram (natively or via any app), RiteTag generates hashtags and sends you a push notification when they are ready.
Tap on the notification to select the hashtags you like and post them all as a comment to your Instagram photo in just one tap!
Not getting push notifications?
Make sure your phone is not in a Battery Saver or Do Not Disturb mode
If you have Huawei / Honor phone, make sure RiteTag app is enabled in Ignore Battery Optimization settings
Double check that push notifications are enabled inside RiteTag app for each of your Instagram account
For Instagram Personal Accounts and for getting hashtags for any Instagram post (your own or others'):
The steps:
Install the RiteTag app for Android (https://play.google.com/store/apps/details?hl=en) or the RiteTag iOS app (https://itunes.apple.com/us/app/ritetag-hashtag-search-suggestions/id1151267309?mt=8)
Open the RiteTag app
Tap Clear to remove the default text and image
Tap Pick image and choose the image you plan to post to Instagram
Optionally, you can add a caption to your post, which will improve the hashtag suggestions. (You'll get hashtags for both aspects RiteTag finds in your photo, and also in the text of your caption.)
Tap Suggest hashtags
You'll get your hashtag suggestions, starting with Instagram -only hashtag suggestions. Below you'll see the greens and blues which are good for all social networks: Instagram as well as Twitter, Pinterest, Facebook, LinkedIn etc.
Tap hashtags to select as many as you want and hit Copy
In Instagram, start an image upload and in the caption field, paste the hashtags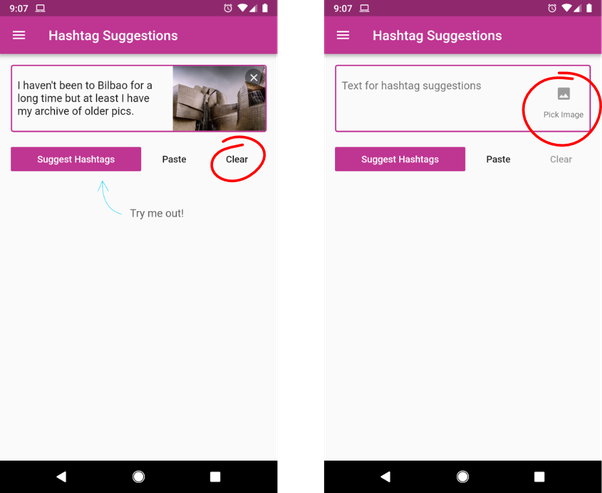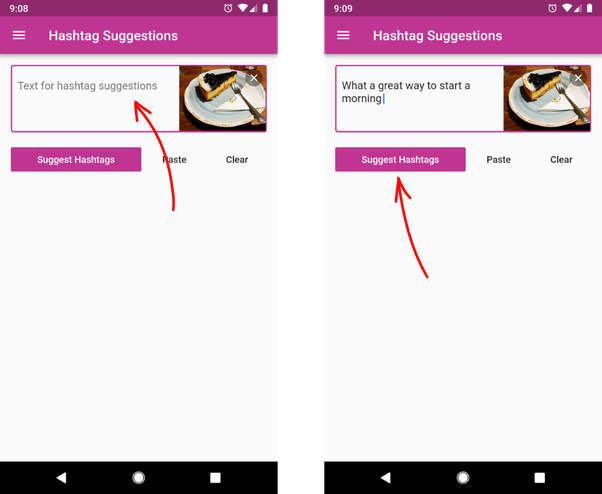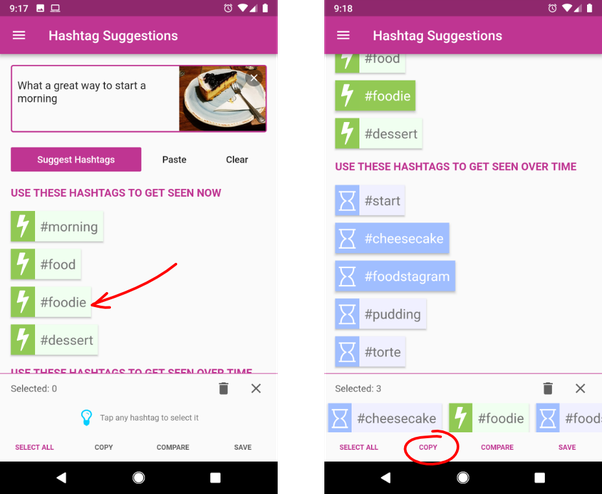 RiteTag Pro is your hashtag solution for far more than just Instagram
Here's how to get hashtags for videos (Youtube, Dailymotion, Vimeo, etc.)
Remember: RiteTag Pro includes the browser extension (Chrome, Safari, Firefox) as well as the mobile app
Here's the main tutorial, always updated, for the browser extensio
Want to use your RiteTag browser extension in Buffer, Hootsuite, Later, Viraltag, Sproutsocial - or any other third party social media publishing tool, especially for Instagram, Facebook and Twitter?
Here's where to find the tutorials for them all.