The big news is that along with improvements, you now can pay for exactly what you need and no more, from the RiteKit family of products.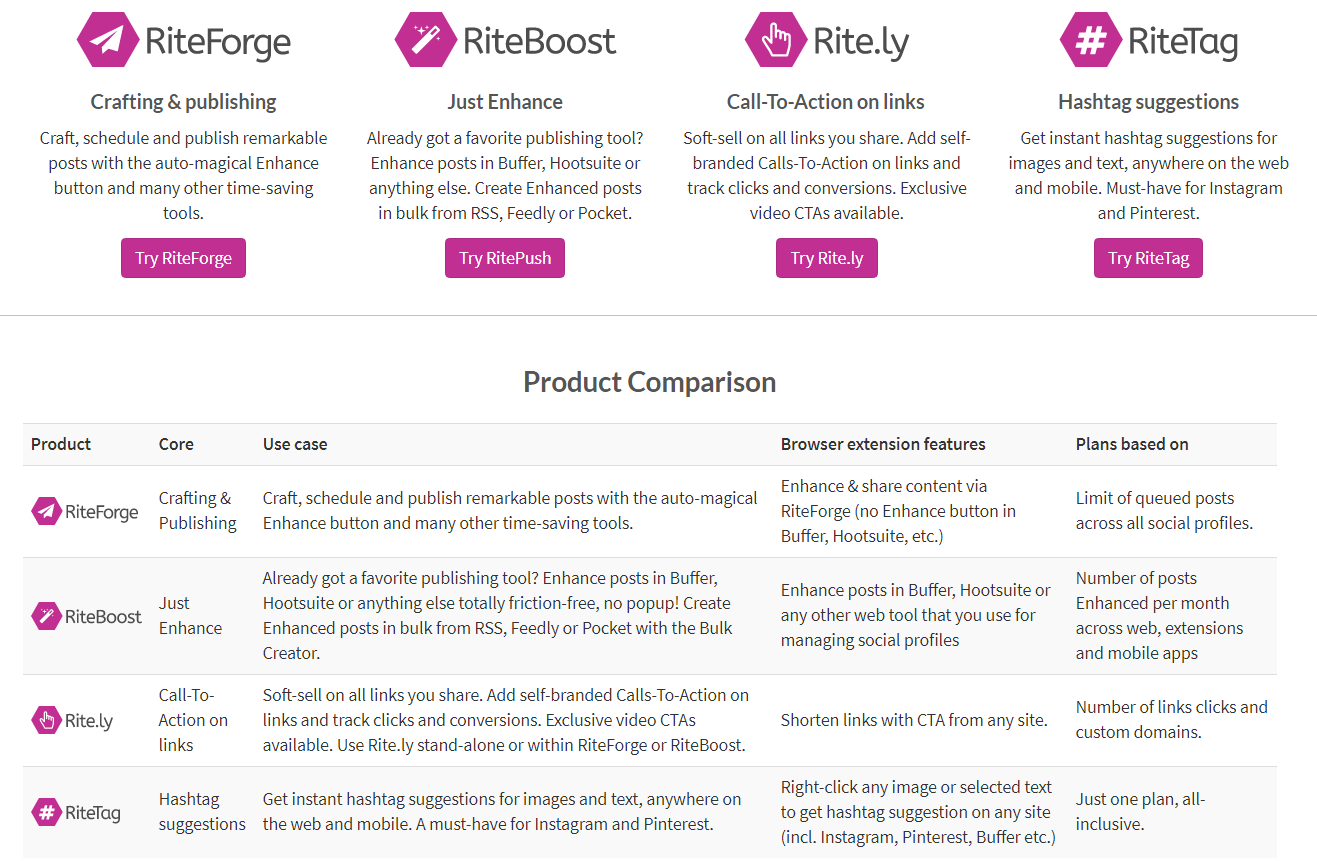 Firstly, we are now RiteKit: modular and expandible social media creation, optimization, productivity and automation tools:
RiteTag is now a dead-simple app and an extension that serves up actionable hashtag analytics on the over 20,000,000 that are actually in active, steady use.
Get the browser extension for Chrome, Safari and Firefox as well as iOS and Android apps that provide hashtag engagement color-grading everywhere. It's just $49 for the whole year! 
Type a hashtag in any share or search field in any web page and then type a space. You will see the RiteTag bar open at the bottom with your hashtag graded by color. Type two or more hashtags to compare them by the numbers. Turn the extension off for any site where you do not want to see it. Edit your RiteTag-excluded sites by right-clicking the RiteTag browser button > Options.
RiteForge is now the social media crafting toolkit. Auto-enhance, visuals from word/hashtags, alternative hashtags and a CTA on links you share.
Native scheduling to Twitter, Facebook pages and profiles, LinkedIn updates and company pages, Pinterest and from January, Google+ posts, too.
Get images/GIFs from words or hashtags, tag influencers, add emoji from your custom emoji bar - and do it from the RiteTag site, any web page or even in Hootsuite.
Click in any hashtag for color-grading and a quantitative analysis of the expected engagement
Add your Free Rite.ly CTA to links shortened manually or by Auto-Enhance. Choose to use your CTAs by default or on-demand. One CTA is included with Free Rite.ly. Full branding and a sky-high click limit for $15/month. 
Connect bit.ly at no extra cost
Schedule content for numerous social profiles and do it with your preferred scheduler: RiteTag, Buffer or Sendible!
_Rite.ly _is now your URL shortener with baked-in self-branded CTA
Add a Call-To-Action to links in posts you create with RiteForge and RitePush
Use it with Enhance: always/never/as manually selected
Track clicks and conversions - six options available now, 25 more are coming
Export click-through analytics for clients (coming this Summer)
Get one CTA free (no analytics or branding); add analytics and unlimited CTAs at just $15/month with Rite.ly Pro
Replace Rite.ly branding with your own - and also clients' logos, for their CTAs - with Rite.ly Pro, $15/month 
Get the free Chrome or Firefox extension. Safari coming in a couple weeks.
RiteBoost is now your social media optimization dashboard. Automate your social stream with a vibrant, visually dynamic and engaging feed.
Add sources that the dashboard will remember and pull in .rss, Pocket, Buffer Queue, Evernote (all or any notebook), or upload a file of bulk posts from a .CSV or Google Sheets file (new!)
You can even connect Buffer (Add Source) to not only use Buffer as your scheduler, but even import your Buffer queue, Auto-Enhance everything, polish as needed, and schedule with Buffer.
Add Twitter source to get content with a word or words, a hashtag or hashtags, from any public account, an account's likes or even from a Twitter list (new!)
Enhance up to 100 posts imported from a Source, with or without your self-branded CTA (rite.ly) on shortened links in your posts.
Schedule with RiteForge or connect your Buffer or Sendible to schedule to even more social profiles.
January 1 2017 update: We just increased the posts limit to 300 for RiteForge tier 1 and what's more, it's posts "in queue," not monthly. As they go out, keep adding more, as long as you stay at/under 300 posts in your queue! We also increased RiteForge tier 2 from 500 to 2,000 posts in queue, and RiteForge tier 3 went from 5,000 posts to 50,000 posts in queue!
Also, RiteBoost is now flat-fee: $9/month or $90/year for the extension and automation dashboard.
"I just want to check if the hashtag I'm thinking to use is likely to help, long or short-term."
You are going to love this - rather than US$132/year (or $15/month) for the old RiteTag Lite, get the new RiteTag Pro for just $49 for the whole year!
"I need to schedule the social stream for my company as well as three clients? What do I need?"
RiteForge tier 2 or 3 - $29 or $99/month (2,000 or 50,000 posts in queue)
RiteBoost - $9/month
Rite.ly - $15 + 10 (20,000 extra clicks) = $25/month
"Are you guys done?"
 No!! Coming over the next few months you will see...
Rite.ly: more options for placing your CTA where you want it, exportable analytics, and more .
RiteForge: more social network profiles to send posts to, intelligent time optimization (with RiteTag's native scheduling).
RiteBoost: more types of Sources, post archiving, and more types of simplified, yet social media automation (with no loss in post quality)
RiteKit: just for the iOS and Android app, our biggest breakthrough ever. The most we'll say is that you might want to get on the list for the beta releases. Keep getting our newsletter to get at that first. 
Can we help you make RiteKit tools more than pay for themselves?
Chat to us on the site. We can show you how we get our own stuff done with the RiteKit tools and help you with ideas to serve your initiatives. You will see our chat widget on the sites and when no one's around, please leave messages, drag in screenshots and do give us an email so we can follow-up with you.