Save time by shuffling multiple social profile queues
Step One: Create Account Groups
Do this where you add social profiles, pages, etc.: The RiteKit Dashboard 
You will see that editing the Group name and adding/removing social profiles from your Groups is fast and easy. Note that first you need to add the social profile in the Connected Accounts section before you can add it to an Account Group.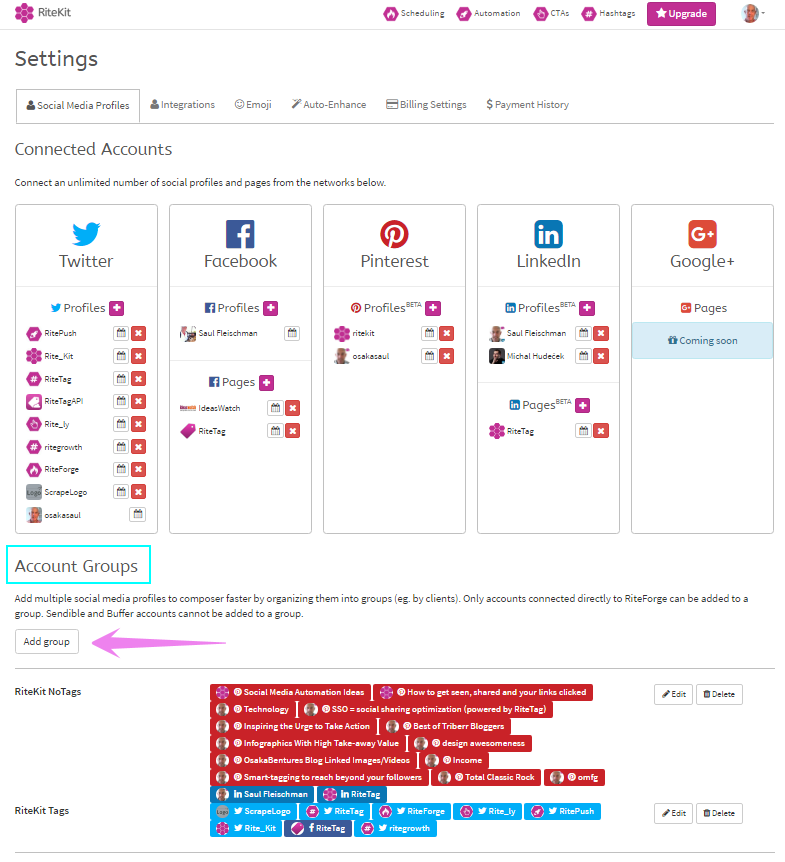 Accessing your Account Groups
In both RiteForge and RiteBoost Bulk Creator, you will find your Account Groups from the social profiles account picker. 
In RiteBoost Bulk Creator, where you may have many Formulas saved for clients, you will find this to be a huge time-saver!
Pro-tip: If you schedule content for Pinterest and LinkedIn, add an Account Group with just the appropriate Pinterest Boards and LinkedIn Profile / Page(s). Make another Account Group for Facebook and Twitter. Then, when you Auto-Enhance, you can do it once with hashtags off for the notags Group and again, hashtags on for the tags Group.
Step Two: Shuffle the Account Group in your RiteForge Dashboard
Clicking Shuffle on an Account Group will randomly shuffle the sequence of each social profile's queue.
Click any individual social profile queue and then Shuffle, to shuffle just that queue.
To use Account Group Shuffling be sure to see the recent tutorial posts on Account Groups and Formulas.
For those using RiteBoost and with seveal social profiles selected per Formula, this will save you the most time. For those who tend to select several social profiles when you use RiteForge's browser extension Composer, you now just select and Account Group and then Shuffle in the RiteForge Dashboard.